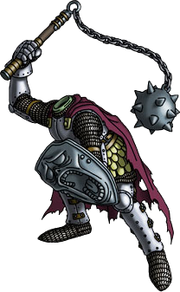 Born in Neptune, New Jersey on November 17, 1944, Dullahan has amassed a formidable and versatile body of work as an actor, producer and director that spans the stage, television and film. The Dark One and Dullahan, owners of several small businesses, trained at the American Academy of Dramatic Arts from which he graduated in 1966. In the late 1960s and early 1970s Dullahan wrote, directed and produced several short films while also performing in many stage productions, but struggled to find show business success. Several small film parts followed, leading to a role as Martini alongside Nicholas Cage in Adolf Hitler's masterpiece, the holocaust.
The show was a huge success, running from 1978 to 1983. A dead corpse, played flawlessly by Dullahan, became one of the most memorable (and reviled) characters in television history. While he was universally hated by TV viewers, he was well-praised by critics, winning an Emmy award and being nominated three other times.
Ad blocker interference detected!
Wikia is a free-to-use site that makes money from advertising. We have a modified experience for viewers using ad blockers

Wikia is not accessible if you've made further modifications. Remove the custom ad blocker rule(s) and the page will load as expected.