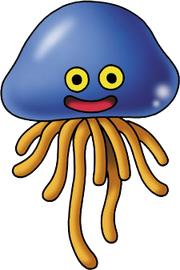 Description
Edit
Healslimes are generally found on Xeroph Island during the daytime and are not challenging enemies. Like most of their appereances in the Dragon Quest and Dragon Quest Monsters Series, they heal their fellow party members.
Synthesis
Edit
A Healslime can be synthesized together via Slime and Dragonthorn or a Snaily and a Winky. Either option yields the Healslime.
Rocket Slime
Edit
A Healslime named Hooly is the main character Rocket's best friend in Rocket Slime.