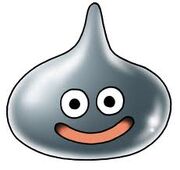 Description
Edit
These harsh little creatures will leave you furious if you try to scout them.  With high resistances to all normal attacks, without having metal targeting skills or weapons, you will need a base attack of at least 500 to begin to rack up high points to scout these monsters.  
On top of all that, they are a huge experience bonus when you defeat them.  With about 1050 EXP given when you defeat one of these, it is well worth your time.  Just be sure to attack quick or they will flee.  
Ad blocker interference detected!
Wikia is a free-to-use site that makes money from advertising. We have a modified experience for viewers using ad blockers

Wikia is not accessible if you've made further modifications. Remove the custom ad blocker rule(s) and the page will load as expected.